Apartment Building Finance - Loan Amounts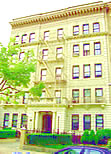 Apartment Building Financing is Available in Loan Amounts from $200,000 to $20,000,000
Most apartment buildings are financed from between $500,000 to $5,000,000 although all loan sizes are considered.

Apartment Building Finance - Loan To Value Ratios & Down Payment Requirements

Apartment buildings are financed at 80% of the contract or appraised value of the property, and the loan amout is base
upon the lower of the two. In typical apartment financing the owner invests a minumum of 20% of their own funds.
A popular option is to obtain a seller second mortgage for an additional 10% of the purchase price.
The total financing up to 90% is acceptable provided 10% is the borrowers own funds.

Apartment Building Finance - Seller Financing Permitted

A seller willing to finance 10% or more of the financing, may be benefiting by obtaining a buyer willing to pay full or nearly full price.
A seller who offers financing also indicates he has faith in the buildings income to generate sufficient income to repay his loan.

The seller cannot finance the entire difference between the building price and the loan. A minium contribution of 10% is
required of the borrower to assure the borrower is committed to the apartment building management and apartment building finance.

Apartment Building Finance - Debt Service Ratios & Capitalization Rates

The building shoud have a debt service ratio of 1.25% which means it can support financing and the income of the borrower is
not a factor, but only the building itself is. If purchasing in high cost areas such as parts of NYC or Los Angeles, the capitalization rate
may be low and the debt service ratio may not be sufficient to pay for the building. Then the borrower will need to evidence that they can
afford the payment, and or apply for a limited documentation program, which will carry a slightly higher interest rate.

When reviewing apartment buildins for sale be sure to compare capitalization rates and the debt service ratio. Make sure your real
estate contract includes verification of rent roll, and full list of the prior expenses for a minimum of two years.

A building with a capitalization rate of 5% or more indicates that the building will take approximately 20 years to return the owners
investment as a rule of thumb. The exact numbers actually depend upon the financing, interest rate, building expenses, and other costs.
Rapidly rising rents and low costs could result in increased capitalization rates or a higher cap rate. Cap rates of 4% or lower are not typically desired by investors unless they can forsee an increase of income, or other value such as a commercial location that may have a higher value.

Apartment Building Finance - Borrower Credit Requirements

Apartment house /building financing is available to all potential investors based on standard credit criteria. Perfect credit is not required however it is important to be current on small debts prior to attempting to receive a large loan from a lender. The objective of the lender is to see that the rents are applied toward the apartment building, mortgage financing and that collection of rent will be managed properly. A person with imperfect credit is still eligible for financing, however it will need to be clear to an underwriter that the primary guarantor is likely to make timely payments on the mortgage loan.

Apartment Building Finance - Interest Rates

Interest rates are as low as 6.5% and 7.5% for a no income check apartment building loan at up to 90CLTV finance
(80% with a seller loan of 10%).


Apartment Building Finance - Loan Application

Apartment building finance can be obtained with the following documents for submission:

1) Contract of sale indicating price of building, down payment minimum of 10%. Any seller concessions for closing cost assistance,
or subordinate financing should be clearly stated in the contract of sale.

2) A commercial appraisal will be ordered on the property - The costs varied and a request for more than one quote will be made.

3) The primary guarantor will need to complete a standard application. A credit authorization will need to be completed along with
an explanation for any credit problems that may have occurred within the past few years.

Apartment Building Finance - Contact Us!

For more information contact us at 1-631-725-5000

Email us at Info@EastlandMortgage.com